A tough job for John Deere.
Posted on:01/09/2014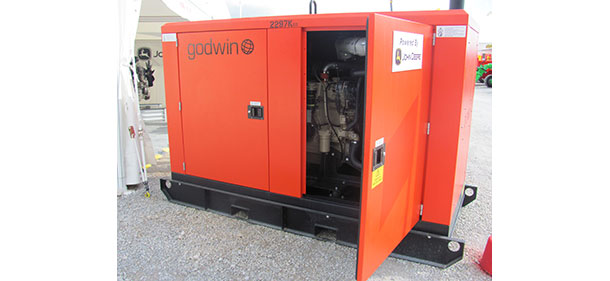 The HEIDRA pump is just one of the models that can be fitted with an engine option from the John Deere diesel engine range plus the CD and HL series.  Godwin is one of the brands supplied by Xylem Dewatering Solutions,  based in Cirencester, a global player in the water business. Both John Deere and Yanmar engines have been relied on by Xylem in the USA for their  reliability and durability in use which is why they have now become part of the UK range. 
The Godwin HEIDRA 150NCSG pump which is fitted with a John Deere 4045TF280-63PU (56kW @ 2100) is an extremely powerful, yet compact pump. The pump end for this set is separate from the engine with a  hydraulic drive capable of providing flow capabilities to 369m3/hr and  discharge heads to 51 metres. Able to perform in the toughest of conditions, the main application is for the pumping of liquids containing solids so it is  extremely effective for both sewage and clean water use. This pump has also proven itself when pumping stringy material; with its non-clog  self-cleaning hydraulic design it offers reliable operation and sustained efficiency, lowering fuel bills and reducing unplanned maintenance costs. Barrus has also supplied Xylem with a Yanmar 3TNV76 diesel engine for a pump set currently being demonstrated in Australia and which will soon be available in the UK and a Yanmar 3TNM72 powered pump set is also  under development.
Contact Us
Marketing Services Department,
E.P. Barrus Ltd, 
Glen Way,
Launton Road
Bicester, Oxfordshire
OX26 4UR        
Tel: 01869 363636
Fax: 08714 298109
Email: customerservices@barrus.co.uk        
VAT Number: GB226662558
Company Registration Number: 148476