Barrus showcase long life cycle DPF Stage V engines from John Deere at Hillhead
Published on: 09/05/2018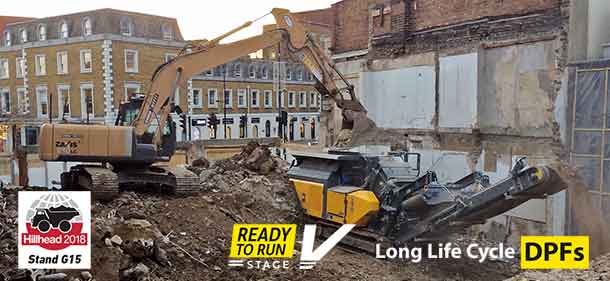 Barrus will be showcasing the latest portfolio of emission compliant power solutions from John DeerePower Systems at Hillhead 2018.
In surface mining and quarry operations, John Deere offers the same advantages that have made the brand famous in the construction sector: uninterrupted power, ultimate reliability and low cost of ownership. They are driving crushers, excavators, loaders, dumpers, gensets and air compressors worldwide.
Ready to meet the upcoming Stage V emission regulations, the John Deere engine range will offer ratings of 36 to more than 500kW (48 to more than 670hp) with displacements of 2.9L through the new 13.6L.
John Deere has pioneered advanced emissions technologies for previous tiers which provided the foundation for its Stage V ready solutions. "John Deere has been employing DPF technology since Interim Tier 4/Stage IIIB so Final Tier 4 engines that are already in use and equipped with DPF will need no further modifications whatsoever to comply with the 2019 EU Stage V regulation, which provides original equipment manufacturers with the benefit of a one installation advantage," comments John Day, General Manager for the Industrial Division, E. P. Barrus Ltd.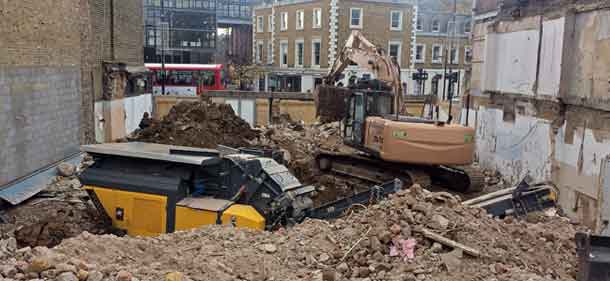 "Through each stage of consecutive emissions regulations, John Deere provided solutions that addressed key customer needs including increased uptime, low operating costs and flexible integration," commented Sandrine Couasnon, Manager, Marketing Services and Sales Engineering for Europe, Africa and the Middle East at John Deere Power Systems. "The same applies to Stage V, and with the John Deere DPF technology there are more than 900 million hours of experience in use in the field."
"This valuable experience on hundreds of OEM applications has resulted in a fully tested long life cycle DPF solution, which offers users many hours of maintenance-free service, increased uptime and day-to-day reliability and durability," added John Day.
Rubble Master who has been using John Deere engines since 2005, will be showcasing two of their Tracked Mobile Impact Crushers at Hillhead, the RM 70GO! 2.0 and the RM 90GO! The RM 70GO! 2.0 machine is powered by a John Deere Tier 3/ Stage III A, 4 cylinder engine, 115kW at 1,800 rpm, and the RM90GO! has a John Deere Stage Tier 3/ III A, 6 cylinder engine, 194kW at 1,800 rpm.
Red Knight 6 Ltd, an innovative business supplying equipment to the quarrying and recycling market, has worked with a demolition company in the London Borough of Camden to source a crushing machine that meets all the criteria for their Clean Air Action Plan.
In addition to the machine meeting the requirements of reduced noise, dust and emissions, there was a further challenge of accessibility to the construction site in Haverstock Hill Road. With so many surrounding buildings close by the crusher needed to be highly mobile to work within the limited space. It also needed to produce final aggregate in one pass so that it could be re-used immediately on site.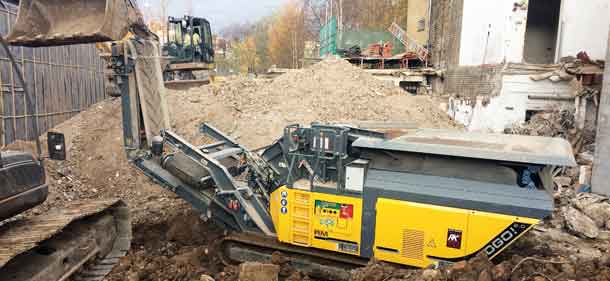 RED Knight 6, recommended a RUBBLE MASTER 70GO! 2.0 tracked mobile impact crusher powered by a John Deere Tier 3/Stage III engine. Paul Donnelly, Director of Red Knight 6 commented, "With its noise-reducing design the RM 70GO! is the perfect solution for noise-sensitive areas like inner cities. There are many design elements within the machine that make RUBBLE MASTER the most silent impact crushers in the industry, such as noise-reducing engine compartment, engine mounting and optimised ventilation slots."
This compact, yet powerful crusher with an average throughput of 125 tons per hour handled 4000 tons of material on site, and the job was finished within five days. "The performance and reliability of the John Deere engines kept the RM 70GO! operating at optimum capacity during the project and the benefits of the fuel-efficient engine maintained very low fuel consumption resulting in reduced running costs," Paul Donnelly concluded.
Red Knight 6 has 25 John Deere powered machines operating in the south of England. As John Deere's exclusive distributor in the UK, Barrus provides service, and spare parts support to Red Knight 6.
The Industrial Division at Barrus has a flexible approach to customer requirements providing specialist applications engineering support for both one-off projects and volume production. Please visit us at Hillhead on Stand G15to discuss your next project or application.
Contact Us
Marketing Services Department,
E.P. Barrus Ltd, 
Glen Way,
Launton Road
Bicester, Oxfordshire
OX26 4UR        
Tel: 01869 363636
Fax: 08714 298109
Email: customerservices@barrus.co.uk        
VAT Number: GB226662558
Company Registration Number: 148476