Bateman relies on John Deere's latest technology
Published on: 05/06/2015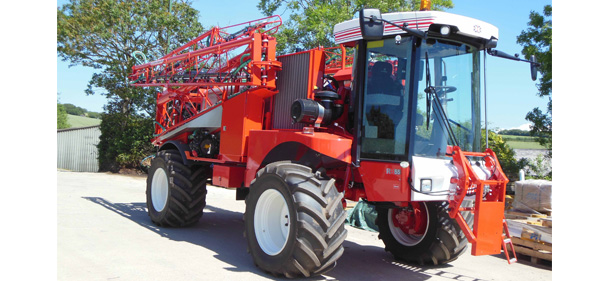 Bateman Engineering Ltd, are long-standing customers of Barrus using John Deere industrial engines to power machines from their range of agricultural crop sprayers.
Bateman's philosophy has always been to produce machines that are ahead of their time creating a benchmark for the industry which is why they have relied on the engine technology chosen by John Deere to meet, and exceed the latest emissions.
The innovative, Bateman Sprayer RB range has been designed and manufactured to the highest standards for use by arable farmers and vegetable growers. The latest and the largest model, the RB55, features a 5,000 litre stainless steel tank and a 24-42 metre, variable geometry (VG) boom, a steel construction making it strong, stable and lightweight for exceptional spraying rates.
The RB55 is powered by the latest John Deere Final Tier 4, PowerTech, 6068HFC09 engine. This 275hp, 6-cylinder water-cooled, turbocharged diesel features additional after treatment including an SCR (Selective Catalytic Reduction System) system plus associated operational equipment including the addition of an Ad-Blu tank and monitoring system. This package offered Bateman the enhanced performance, emission compliance and fuel economy that they required. Two prototype machines were produced, and Barrus application engineers also assisted Bateman with their development work associated with the incorporation of the John Deere engine into the RB55.
The RB55 is now in full production with Bateman taking delivery of a total of 7 engines. The machine is proving to be very popular, and Bateman has already received several orders including forward orders for 2015.
Contact Us
Marketing Services Department,
E.P. Barrus Ltd, 
Glen Way,
Launton Road
Bicester, Oxfordshire
OX26 4UR        
Tel: 01869 363636
Fax: 08714 298109
Email: customerservices@barrus.co.uk        
VAT Number: GB226662558
Company Registration Number: 148476