Quietly lighting the way
Published on: 02/05/2018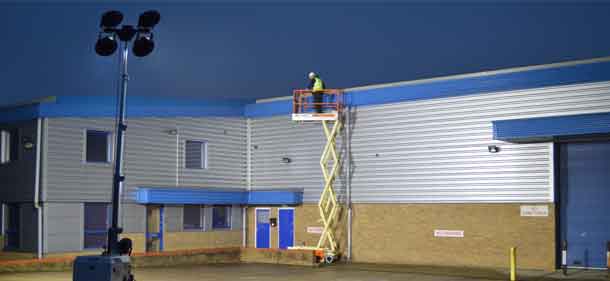 With 4 x 200 Watt LED lamps mounted on a 5.4 metre mast, the powerful new mini-lighting tower provides over 3200 square metres of single direction illumination, over 2500 square metres of 360- degree lighting at 20 lux average and a 'white light' similar to that of daylight. 
A compact package of power, the Yanmar L70 engine range has been designed with Yanmar's proprietary direct injection technology which, coupled with super-precise fuel injection equipment, results in an environmentally friendly engine with low fuel consumption and running costs.  Richard Beechey, Sales Manager, Stephill Generators commented, "We chose the Yanmar L70 engine due to its remarkable record of reliability, durability and "benchmark" status within the plant and hire industry."
The new unit is fitted with forklift pockets and central lifting eye and, with excellent 4 wheel manoeuvrability, can be easily loaded and off-loaded via a vehicle tail lift. The adjustable stabiliser legs and hand operated winch ensure rapid and simple deployment. The SLT5000 has a 4.5kVA, 230/115v dual voltage output when operated as a generator and features a Deep Sea DSE3110 control module. An optional programmable timer is available so that the generator can set to start and stop on a daily basis when lighting is required. With a sound level of just 66dBA @ 7m and run time of 52 hours when operated as a lighting tower, the SLT5000 also includes a lockable control panel door, low oil pressure and high engine temperature shutdown, low fuel level warning and self-bleeding fuel system amongst other features. 
Contact Us
Marketing Services Department,
E.P. Barrus Ltd, 
Glen Way,
Launton Road
Bicester, Oxfordshire
OX26 4UR        
Tel: 01869 363636
Fax: 08714 298109
Email: customerservices@barrus.co.uk        
VAT Number: GB226662558
Company Registration Number: 148476