Mariner In Service at Weymouth Harbour
Published on: 17/05/2016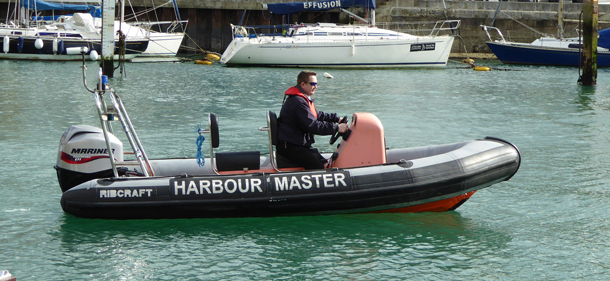 Weymouth Harbour Authority has chosen Mariner outboard engines for one of their RIBs. Weymouth Harbour is a small, but busy port and considered one of the most attractive in Europe.
Supplied by Mariner dealer, Kingfisher Marine in Weymouth, the four-stroke, Mariner F50 EFI engine has been installed into a 4.8 metre boat that is one of two RIBs used by Weymouth Harbour Authority.
The boat is used for general harbour duties, towing vessels and pontoons and transporting harbour personnel.
Keith Howorth, Harbour Master for Weymouth Harbour Authority explains why they chose the Mariner engine. "The 50hp Mariner is large enough to complete the tasks required of the boat but not too powerful for the less experienced seasonal drivers of the boat. The four-stroke engine option provides a more versatile and economic package. Kingfisher Marine offered a great service and a reliable stock of spares and as one of our neighbours they are close at hand should we require on-going advice and support."
"Although we have only used the engine for a few hours to date we are confident that it will provide a good service for our requirements," Keith concluded.
"This is the second Mariner engine we have supplied to the Harbour Authority. The importance of on-going technical support was an important factor for the Weymouth Harbour Authority. Kingfisher Marine is open seven days a week, all year round. We carry a large stock of spare parts and we operate a 24-hour breakdown service," commented Dave Caddy, Kingfisher Marine.
For further information on Weymouth Harbour Authority and the services they provide visit www.weymouth-harbour.co.uk.
Contact Us
Marketing Services Department,
E.P. Barrus Ltd, 
Glen Way,
Launton Road
Bicester, Oxfordshire
OX26 4UR        
Tel: 01869 363636
Fax: 08714 298109
Email: customerservices@barrus.co.uk        
VAT Number: GB226662558
Company Registration Number: 148476