Mercury Inflatables are more than just dinghies or tenders. They are the perfect choice when you want portable, affordable fun. Mercury Inflatables are quick to set up and quick to stow. Most Mercury Inflatables can easily fit in a car boot or boat locker due to their portability and lightweight construction.
Mercury Marine is dedicated to manufacturing the finest marine products in the world, and Mercury Inflatable boats are no exception. Mercury Inflatable Boats utilize the most current and highest-quality processes in the industry. This commitment to building a top-of-the-line boat is at the heart of Mercury's philosophy. They are technologically advanced with VITECH® hulls and THERMOWELDED fabric.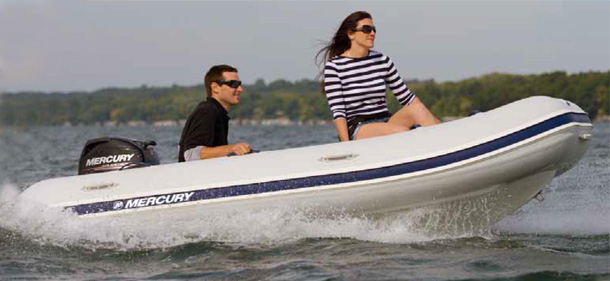 The Ocean Runner 420.
The Mercury Inflatable range has nine different series to choose from, with the Ocean Runner series undoubtedly being the most popular. The Ocean Runner Series brings a truly performance-engineered, stepped fibreglass V-hull together with a very stable inflatable tube. Consisting of four different models 420,340, 290 and 460 the Ocean Runner is one of the finest series of Rigid Inflatable Boat's (RIB's) in its price range.
Read our Blog article on the Ocean Runner range of inflatable boats, detailing features and benefits of this popular range and individual models. Learn More
Mercury Inflatable Boat packages are available with a vast range of choice of Mariner or Mercury outboard engines, you will own state of the art engine power and be able to take your boat out to enjoy fun on the water.
You will also benefit from sales, service and spares support through the national network of  Mariner and Mercury authorised dealers. In addition, a five-year warranty programme is applicable for all eligible engines.
For more information please visit Mercury Inflatables Website

Contact Us
Marketing Services Department,
E.P. Barrus Ltd, 
Glen Way,
Launton Road
Bicester, Oxfordshire
OX26 4UR        
Tel: 01869 363636
Fax: 08714 298109
Email: customerservices@barrus.co.uk        
VAT Number: GB226662558
Company Registration Number: 148476