Cashback Offer
All in one performance
MAY CASHback offer!
15% Cashback on selected† Mercury FourStroke 15 & 20hp outboards*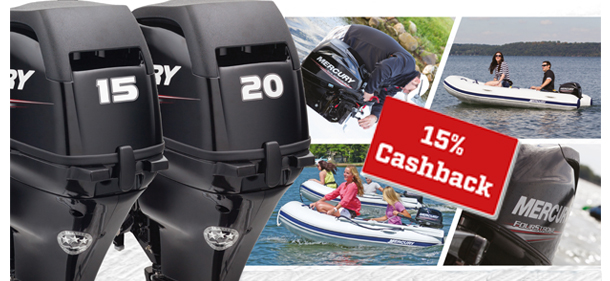 Compact yet powerful, the Mercury 15-20hp FourStroke outboard engines feature extra displacement and outstanding low-end torque. Robust in design and incredibly durable, Mercury engines are built to last and near silent in operation.
The 15 and 20hp models are loaded with typical Mercury features which translate into smooth, problem-free and economical operation. With low emissions and terrific fuel-efficiency combined with safety, dependability and ease of use, you can rest assured knowing you have the unrivalled power of a Mercury outboard.
Features & benefits:
Multi-function tiller handle controls shift, stop, throttle, throttle friction and steering for one hand operation.
5-year warranty (not applicable for commercial and racing applications)**
6 trim positions plus shallow water drive allow easy access to remote areas and better control in shallow waters.
Enhanced fuel primer and manual choke deliver instant starts every time.
Electric start models feature a 6 amp/76 watt alternator to keep batteries properly charged.
Manual recoil starter, even on electric start models.

While stocks last, we are offering 15% cashback on selected 15-20hp outboard engines. Please contact your local Mercury authorised dealer to find out more and take advantage of this great offer.
*cashback applied at point of purchase
**terms and conditions apply
Contact Us
Marketing Services Department,
E.P. Barrus Ltd, 
Glen Way,
Launton Road
Bicester, Oxfordshire
OX26 4UR        
Tel: 01869 363636
Fax: 08714 298109
Email: customerservices@barrus.co.uk        
VAT Number: GB226662558
Company Registration Number: 148476