Production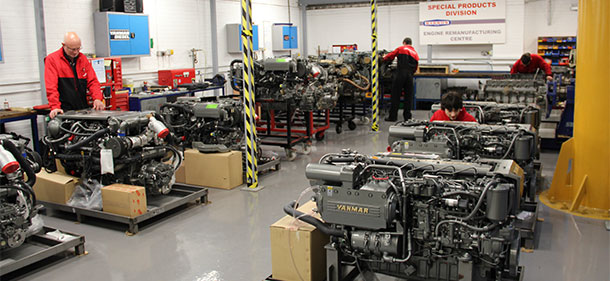 The substantial investment made by Barrus has created one of the world's largest and most modern custom engine building facilities, allowing us to build products from single units to large volume production runs.
Our facilities include:
        

Five dynamometers capable of testing diesel engines up to 900hp. The dynos can be pre-programmed and are run automatically for 24/7 operation.
        

Two overhead mono-rail production lines capable of supporting outboard engines up to 350hp and inboard engines up to 500hp.
        

An outboard test cell which can accommodate up to eight 400hp engines with transoms from 15"-30".
        

Computer Measuring Machine (CMM) for inspection and design.
        

Extensive CAD capability and 3D printing for rapid prototyping.
        

Machine shop and welding centre for prototype and low volume manufacture.
        

Dedicated inboard and outboard overhaul area.
        

Spray booth with warm air ventilation for superior paint finish.
Situated just five miles from Barrus, Grebe lake provides a 50 acre site for year round testing and trials of custom-built applications.
We also offer a comprehensive range of training courses for engineers and technicians which are available to all dealers and specialist partners.
Contact The Special Products Team
Find a Dealer near you
For expert advice and support contact your local dealer
Download the Special Products Brochure
Download the Special Products Brochure.
Contact Us
Marketing Services Department,
E.P. Barrus Ltd, 
Glen Way,
Launton Road
Bicester, Oxfordshire
OX26 4UR        
Tel: 01869 363636
Fax: 08714 298109
Email: customerservices@barrus.co.uk        
VAT Number: GB226662558
Company Registration Number: 148476