Chorley Wanderers Invest in Ground Care
Published on: 22/02/2018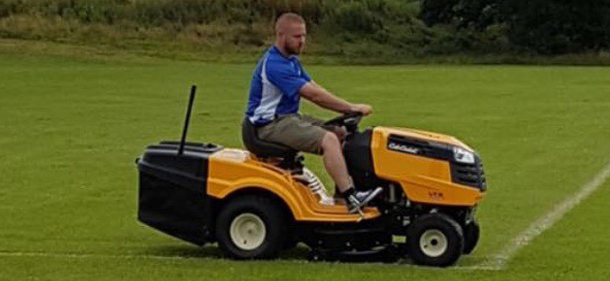 Chorley Wanderers are celebrating an early season victory, with the purchase of a new Cub Cadet lawn tractor. The volunteer run, FA Chartered football club currently has teams playing across Preston and the surrounding areas. As such, its pitches see a lot of use, so the new machine is going to be put through its paces!
Upon finding the Preston based C&C Machinery dealership on Facebook, Dan McDermott from Chorley Wanderers invited them to the club. The machine they brought with them was the Cub Cadet LT2 NR92 36" lawn tractor. C&C provided a full demonstration, and Dan was so impressed with the quality of cut and collection that he invested in one there and then. 
The LT2 NR92 benefits from hydrostatic drive, a powerful and reliable Cub Cadet engine, and direct collect 3-in-1 option, making it versatile and reliable to use. Dan and the team also commented on how well built, light and agile the machine was, not to mention the low running costs of it, with it being seen as an investment in the future of the club, as they will now be able to save money on turf repairs.
Dan was highly complimentary of both C&C Machinery and of Cub Cadet, saying, 'I'd just like to take this chance to express our appreciation for your service on behalf of all of us at Chorley Wanderers.
We've had the mower for a few months now and from the start you've done nothing but help us with anything we needed. The mower has been out quite a few times already and kept the pitches neat and tidy. We are a relatively small club but the Cub Cadet ride on mower has been a god-send to us and helps us maintain quality playing pitches for our young players.'
Cub Cadet products are sold exclusively through its dealer network.  For further information on the product range and dealer locations, visit www.cubcadet.co.uk.
Contact Us
Marketing Services Department,
E.P. Barrus Ltd, 
Glen Way,
Launton Road
Bicester, Oxfordshire
OX26 4UR        
Tel: 01869 363636
Fax: 08714 298109
Email: customerservices@barrus.co.uk        
VAT Number: GB226662558
Company Registration Number: 148476