Cub Cadet launches new mobile APP
Published on: 31/03/2016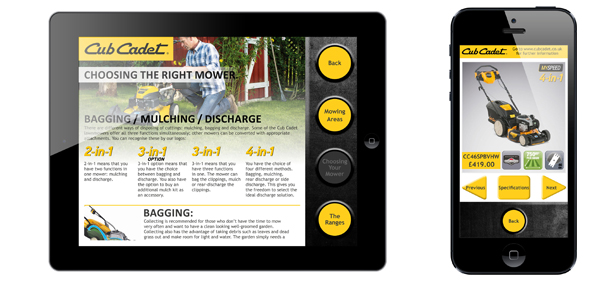 Cub Cadet, is pleased to announce its latest technological development with the release of a free-to-download product information app.
The app is a one stop shop of information, containing all the details and specifications across the entire 2016 Cub Cadet range. It is divided by product type for quick and simple navigation, making it the perfect research tool before visiting a local Cub Cadet dealer.
The app has a catalogue style approach and from the home page users simply select the product type that they are interested in across the full Cub Cadet line up, encompassing lawnmowers, Mini-Riders, Lawn Tractors, Zero-Turn Riders, Robotics, UTV and Chore Performers.
Each product has a vast amount of detail to choose from with quick reference guides highlighting each product's key features and benefits, along with advice on which product to choose based upon mowing area. Dealers and consumers alike can easily see detailed product specifications including; cutting information, discharge system, engine details, drive systems, dimensions and price. For further information and videos, it is possible to link through to the Cub Cadet website.
Nick Hills, general manager of Cub Cadet UK, commented: "Cub Cadet's heritage spans 55 years. Whilst we have a strong and prestigious background, we are always evolving and looking to new technologies to support our dealers and customers. Our new app is yet another example of that. Supporting our dealers is key to our success so we want to do all we can to help them, which is why we have rolled out the Powershop showroom displays and developed this new APP."
The Cub Cadet app is available for apple devices and can be downloaded from iTunes by searching "Cub Cadet" or by clicking here
Contact Us
Marketing Services Department,
E.P. Barrus Ltd, 
Glen Way,
Launton Road
Bicester, Oxfordshire
OX26 4UR        
Tel: 01869 363636
Fax: 08714 298109
Email: customerservices@barrus.co.uk        
VAT Number: GB226662558
Company Registration Number: 148476