High Sheriff Awards for leading engineering students
Published on: 29/06/2017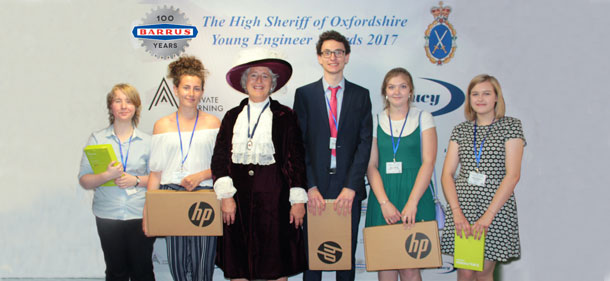 Engineering students and apprentices were presented with prizes by the High Sheriff of Oxfordshire, Jane Cranston, at the Bicester-based engine and machinery supplier E P Barrus Ltd.
The annual High Sheriff of Oxfordshire Young Engineer Awards, sponsored by Activate Learning, Lucy Electric and E P Barrus Ltd, celebrate the achievements of the best and most improved engineering students and apprentices aged 14 to 18. The awards were originally the initiative of Mr Richard Dick, Executive Chairman, Lucy Group Ltd and a former High Sheriff of Oxfordshire. Teachers and workplace assessors throughout the county were invited to nominate their students.
The results were revealed by John Griffiths, Chief Executive Officer of Lucy Electric. In the 14 to 16 age group the winner of the most improved student was Emily Thompson, from UTC Oxfordshire in Didcot, while the best student award went to Asha Pantaleo from Woodgreen School in Witney. The 16 to 18 age group winners were Zoe Townsend from UTC Oxfordshire in Didcot who won the most improved student; the best student was awarded to Alice Byles from The Cherwell School in Oxford. Alexander Drewett who is undertaking an engineering apprenticeship provided by Activate Apprenticeships at Wychwood Water Systems Ltd and attends the City of Oxford College Technology Campus in Blackbird Leys, won the best apprentice award. E P Barrus Ltd also donated a 3D printer to Banbury and Bicester College that can print prototype and production parts in different plastics and colours.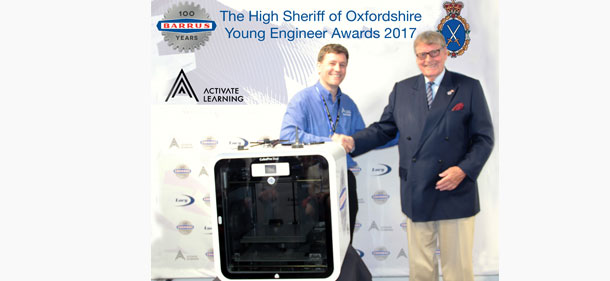 Robert Glen, Chairman of E P Barrus Ltd said: "We are delighted to host the awards, in this, our centennial year and to acknowledge and celebrate young student's achievements in engineering. Each young person involved in tonight's event should be so proud of themselves and they will go on to do great things. Over the years Barrus has offered work experience placements to many young engineering students with a large majority joining the company on a full time basis. These engineers and current students have been involved in the facility tours this evening and were keen to offer advice to the engineers of the future."
Jane Cranston, High Sheriff of Oxfordshire said "It is a pleasure to see young people making the most of the opportunities they have been given and for them to know that by using their talents they can look forward to an exciting future in Engineering. As High Sheriff it is a privilege to be able to make these awards, initiated by one of my predecessors Richard Dick, to celebrate talent, hard work and commitment."
Sally Dicketts, Group Chief Executive Officer of Activate Learning said: "It is so important to highlight our hard working and talented young people. All of the nominees are all so dedicated and focused on achieving a fantastic career in engineering. They demonstrate the skills and drive that will ensure that they succeed and we wish them all the very best in their futures."
Contact Us
Marketing Services Department,
E.P. Barrus Ltd, 
Glen Way,
Launton Road
Bicester, Oxfordshire
OX26 4UR        
Tel: 01869 363636
Fax: 08714 298109
Email: customerservices@barrus.co.uk        
VAT Number: GB226662558
Company Registration Number: 148476