Lucas Hatch's Monthly Review - This month the 30" Bypass Loppers
Published on: 01/03/2016
This month I've been getting to grips with the Wilkinson Sword 30" Bypass Loppers from their Razor Cut Pro range. These loppers have very sharp Japanese Steel blades which can cut through stems and branches of up to 40mm in diameter! With this in mind I thought I'd try and put them through their paces.
My first job to test them on was a bit of coppicing. We have some Hazel in our garden that we deliberately grow for 2 to 3 years just so we can harvest a new set of Hazel poles to use in our garden for things like runner bean wigwams or to support climbers. Now is a great time to coppice, before they come into leaf. All I can say is that the loppers cut through these like butter.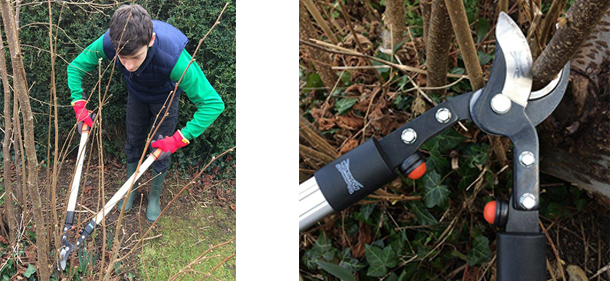 We also had some more tree pruning to complete whilst they are still dormant, and I used the loppers to cut out a few badly placed and crossing branches, as well as some low ones from a flowering cherry tree.
Finally, we had an old Elder tree that was in desperate need of thinning out, as over the years it has gradually been taking the natural light from our vegetable patches, armed with the Wilkinson Sword 30" Bypass Loppers I started by cutting out the old and dead wood, followed by the removal of other branches to achieve our goal. As the branches were not straight they could not be fed into a garden shredder, so I put the loppers to further use by cutting them into short lengths so they could be transferred to the recycling bin.
The leverage you get with these loppers together with the quality of the blade made light work of all the tasks I tried with them, and the soft grip handles coupled with the red rubber stops make a surprising difference when using the tool for long periods as I found out.
All in all, I know that these will get a lot of use well into the future.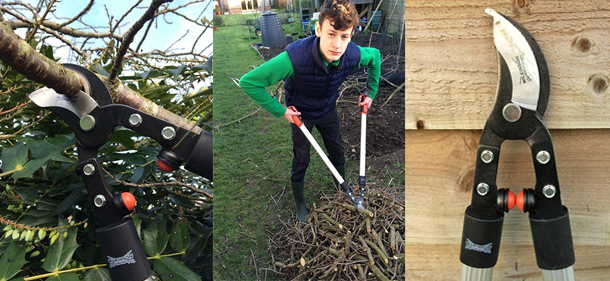 Contact Us
Marketing Services Department,
E.P. Barrus Ltd, 
Glen Way,
Launton Road
Bicester, Oxfordshire
OX26 4UR        
Tel: 01869 363636
Fax: 08714 298109
Email: customerservices@barrus.co.uk        
VAT Number: GB226662558
Company Registration Number: 148476