Lucas Hatch's Monthly Review. This Month - The Bow Rake
Published on: 12/08/2016
Now that our crops of new potatoes have come to an end, its time for me to harvest the last few plants to go with a summer salad, Yum! This frees up a lot of space for some other summer and winter vegetable crops, but before doing so I'll need to rake over the areas in preparation and for this, I've been testing out the WOLF-Garten Bow Rake. The Bow Rake head attachment is part of the of the well renowned multi-change® tools system from WOLF-Garten. It is 40cm wide with curved teeth that can apparently be pulled through soil and gravel easily, and with the addition of the flat top, the rake can be reversed for creating level seed beds, made possible by the wide steel bow fixing.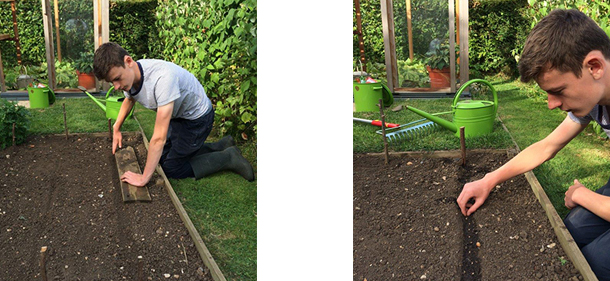 After harvesting the gold rush of new potatoes I used the Bow Rake to break the soil down to a fine tilth, before reversing the head and using the flat side to create a flat and level seed bed. I couldn't believe how quick and easy the tool made this seem, but I suppose it's down to the added width and balanced feeling to the rake head from the bow fixing at each end of the rake head rather than the usual middle fixing. Once level I set about making seed drills which I then pre-watered before sowing rows of carrot 'fly away' a carrot fly resistant variety, and Beetroot 'Boltardy'. Once they are covered over and watered they'll be up in no time given the current warm soil temperature. On the second, now empty potato patch I repeated the raking & levelling exercise with speed and ease enabling me to set out my Brussels sprout plants at a spacing of 2.5 feet to allow growing room. Once planted, it was just a case of placing cabbage collars around them to prevent cabbage root fly, watering them in well, and then making a net covered frame to keep the Cabbage White butterfly out. With a bit of luck, we should hopefully have Brussels ready for Christmas and into the New Year.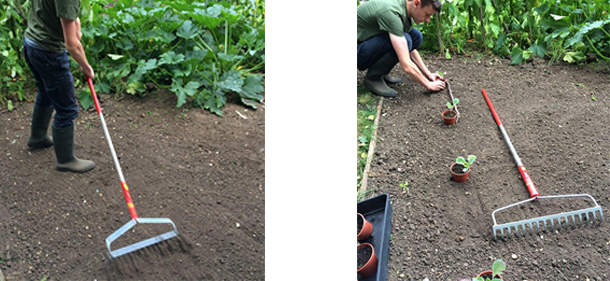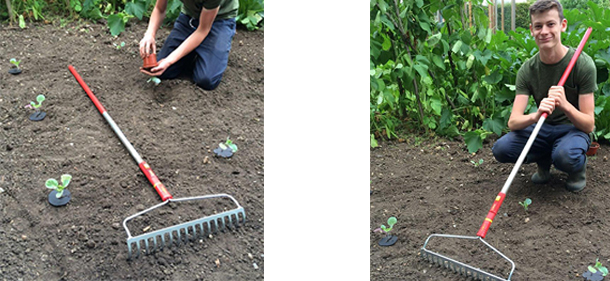 As you can see from the photos below the Bow Rake has a dual function of not only raking but as an aid for levelling seed beds for direct sowing into the soil.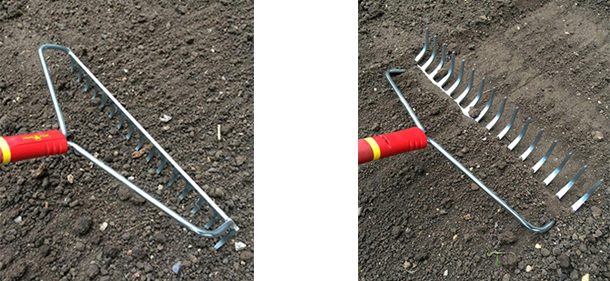 Overall I found using the WOLF-Garten Bow Rake  amazingly good at breaking the soil down compared with my old standard rake, while making it feel effortless, as well as sturdy and controllable, which for me fits it into the category of the right tool for the right job, and on top of that it creates level seed beds by simply spinning it over! I love this Rake.
For more information on the WOLF-Garten range please visit the website here 
Contact Us
Marketing Services Department,
E.P. Barrus Ltd, 
Glen Way,
Launton Road
Bicester, Oxfordshire
OX26 4UR        
Tel: 01869 363636
Fax: 08714 298109
Email: customerservices@barrus.co.uk        
VAT Number: GB226662558
Company Registration Number: 148476