Lucas Hatch's Monthly Review - This month the Carbon Steel Border Spade and Fork
Published on: 04/04/2016
Spring has arrived! and I've been busy planting a new tree, transplanting plants and planting seed potatoes. For this I've been using both the Wilkinson Sword Carbon Steel Border Spade and Border Fork from their latest range, which feature wooden Ash handles and a hard wearing black epoxy coating for added durability, and I can say both are really good.
We bought a Quince Vranja fruit tree in February but had not got round to planting it, as we couldn't decide a final position for it. But after weeks of moving it around the garden it ended up back in the original position, or within a foot. I set about digging a hole about 18 inches square by about 18 inches deep using the Border Spade and this was surprisingly easy because border spades are narrower than normal digging spades, which helps when you are digging to any depth, as it takes less pressure to push down and lever the soil up. The angled soft rubber gripped handle really does help in manoeuvring the tool and keeping it steady in the process. In case you are wondering, I was always taught to dig square holes when planting trees as round holes can cause roots to spiral in heavier soils. Next was the turn of the Border Fork which I used to break up the base and loosen the sides of the hole, which this did with no problem!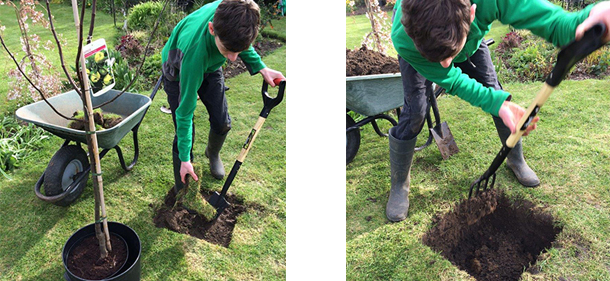 After working in some fish, blood and bone mix to the base of the hole to help the tree develop strong healthy growth, I removed the tree from its pot and teased out the roots and positioned it in the hole. Next was the job of backfilling with the previously dug soil and heeling it in around the tree, being careful not put too much pressure around the trunk area. With a tree stake in, leaning towards the prevailing wind and a tree tie on, and a good dose of water, it was job done.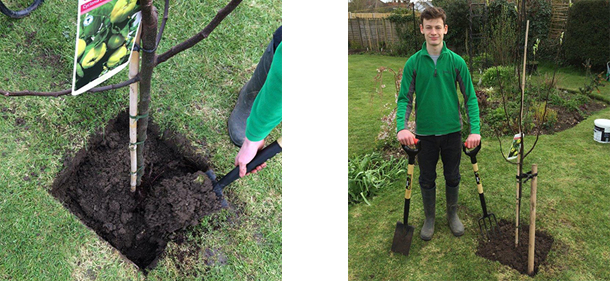 The next job that I used the Border Spade and Border Fork on, was for moving and transplanting plants and shrubs within our borders to make way for some new additions that we have planned as well as making space for a new wildlife pond. I had quite a lot of established plants to move from the area where we were going to position the pond and these tools were great for the task. Finally, and most importantly, after weeks of chitting, I planted our first early seed potatoes by first digging a narrow shallow trench using the Border Spade, and then loosening the base with the Border Fork. (This patch was previously dug over and prepared about a month before so did not need any further cultivation) I then positioned the seed potatoes with the eyes up at the spacing and depth they required, before carefully covering them over using the border spade and a rake. This is such an easy job, and at the end of it you are rewarded with a crop of fresh new potatoes for the whole family to enjoy! Although you will need to keep mounding the earth up once growth appears to increase the yield.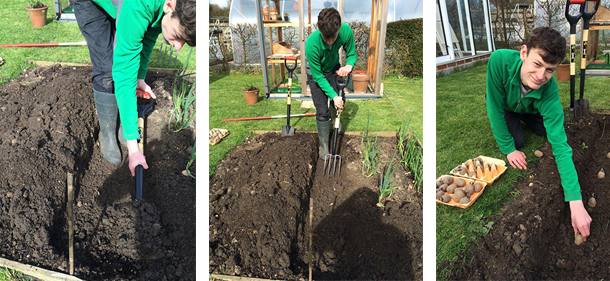 Over the past month I have really put the tools to good use and have been impressed with the build quality, strength, and ergonomic features that these reasonably priced tools offer. I would not hesitate in recommending them, and they are a worthy addition to any gardener, including all young gardeners!
Contact Us
Marketing Services Department,
E.P. Barrus Ltd, 
Glen Way,
Launton Road
Bicester, Oxfordshire
OX26 4UR        
Tel: 01869 363636
Fax: 08714 298109
Email: customerservices@barrus.co.uk        
VAT Number: GB226662558
Company Registration Number: 148476