Lucas Hatch's Monthly Review - This Month the Ultralight Branch and Shrub Cutter.
Published on: 29/02/2016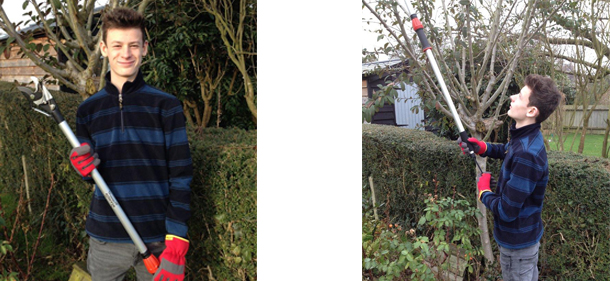 Spring is just around the corner but there are still plenty of jobs to do during these winter months to get the garden ready. This month I have been getting to grips with the Wilkinson Sword Ultralight Branch and Shrub Cutter, along with some WOLF-Garten gloves which are very useful during the colder weather.
This is the perfect time of year to carry out winter pruning of evergreens, rose bushes, apple trees, along with many other species whilst they are still dormant. I have been using the Wilkinson Sword Ultralight Branch and Shrub Cutter to cut out any damaged, badly placed, and crossing branches and it has proved an easy task with this tool. The cutter will handle branches up to 25mm diameter and the sliding handle mechanism pulls an internal stainless steel wire through the 1.6m long lightweight aluminium pole. This is an added bonus as there is less chance of snagging on other branches.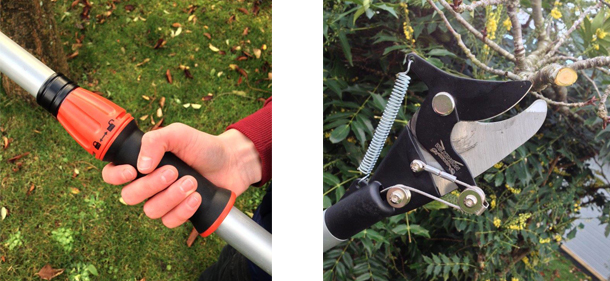 I found that the option of using the end toggle instead of the sliding handle for extra reach was just as positive and gives the tool extra versatility. When not in use the tool even has a blade lock for safe storage which is activated by twisting the orange collar positioned over the sliding handle. This tool has become one of my favourites and I can see myself using it at every opportunity.
As well as pruning I have been trying to get ahead of the weeds by removing them now before they get too established, and this is easily done with a hand fork to loosen the ground and then lifting the weed with your hand. The WOLF-Garten Soil Care Gloves are ideal for this as they are tight fitting with rubberised palm and finger grips, which are great for handling the more prickly weeds too.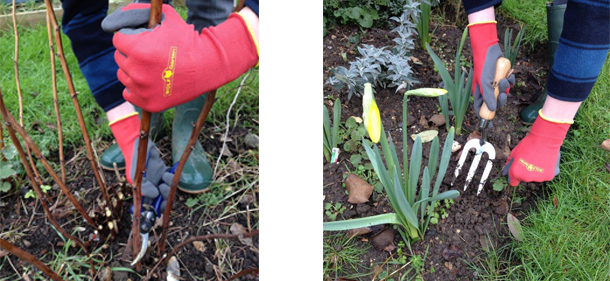 Now is the right time of year to cut back any Autumn fruiting raspberry canes ready for next season's growth. This is easily done with a good pair of sharp secateurs, by cutting them down to near ground level and applying a mulch of well rotted manure or garden compost to the base of the canes. Wearing decent gardening gloves makes this job so much easier when venturing out in the cold.
Contact Us
Marketing Services Department,
E.P. Barrus Ltd, 
Glen Way,
Launton Road
Bicester, Oxfordshire
OX26 4UR        
Tel: 01869 363636
Fax: 08714 298109
Email: customerservices@barrus.co.uk        
VAT Number: GB226662558
Company Registration Number: 148476