Oxfordshire Dealer Rescues 1970s Cub Cadet International
Published on: 01/03/2016
Here at Cub Cadet we are always happy to hear about the dedication that our dealers show to our brand; as a well know brand dating back to 1961, we have a lot of history, and have developed a loyal following in our 55 years. A prime example of this dedication comes courtesy of Banbury based dealer, Andrew Bolter, of FN Pile and Sons. Andrew has spent the past six months painstakingly restoring a Cub Cadet International 76, with a Briggs and Stratton pull start engine, originally manufactured in 1972. The vintage model had been stowed away for many years in a shed in the depths of the Staffordshire countryside, until it was rescued by a neighbour, who, noting the significance of the model, listed it on eBay on the owner's behalf.
It was promptly snapped up by Andrew, and once he got it safely back to Oxfordshire, he set about the restoration process, doing everything himself. As would be expected of such a quality item, the belts, pulleys and blades were all in great condition, and remain the originals. In fact, the only item that actually needed changing was the float in the carburettor. The lawn tractor now once again runs like a dream, after so many years of being locked away in the dark.
Cosmetically, the fiberglass bonnet has survived the test of time, and Andrew carried out all the repainting himself in the original 'International Yellow', staying true to the tractors history. He even sourced stickers and transfers from the original suppliers in the USA to complete the full restoration. "It is fantastic to see that these wonderful machines are still around and going strong. This restoration project is testament to the brand's strong heritage and reputation of being manufacturers of truly reliable tractors which can stand the test of time," commented Martin Wasley, Cub Cadet's Sales and Technical Manager.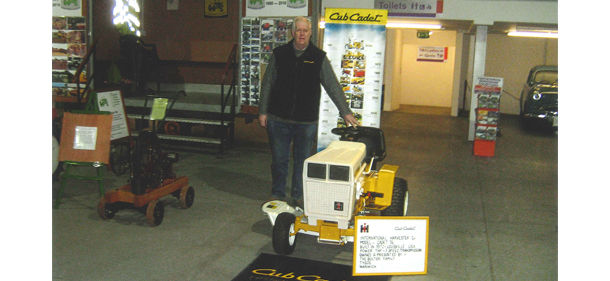 With the restoration project now complete, Andrew has shown the restored tractor at the Model Tractor Show and will now take it to show it at steam rallies, where it will no doubt get a lot of attention. "Restoring the International 76 has been a real pleasure. I have done up big tractors in the past and it was nice to do something smaller," said Andrew. "I have always been a Cub Cadet fan so when the opportunity arose I jumped at the chance". Andrew's Cub Cadet plans don't stop here; his next restoration project is a 1971 Cub Cadet International Model 106, and we cannot wait to see it!
Contact Us
Marketing Services Department,
E.P. Barrus Ltd, 
Glen Way,
Launton Road
Bicester, Oxfordshire
OX26 4UR        
Tel: 01869 363636
Fax: 08714 298109
Email: customerservices@barrus.co.uk        
VAT Number: GB226662558
Company Registration Number: 148476