WOLF-Garten clean up Ancient Monument
Published on: 19/10/2017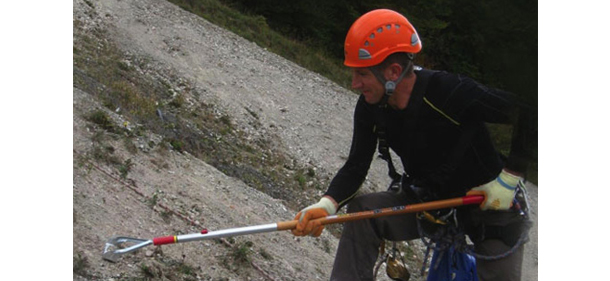 When Rope Works, a specialist rope access and conservation service were contacted by The Chiltern Society to freshen up the hillside chalk figure, Whiteleaf Cross, they knew which tools would be best suited to the job.
The work involved the removal of weeds that were growing on the bare chalk followed by a light disturbance of the chalk surface to reveal a brighter surface of fresh chalk. As a scheduled ancient monument, it was important that English Heritage and The Chiltern Society were satisfied that the weeding operation wouldn't be detrimental to the condition of the precious figure.
Angus Tillotson of Rope Works commented that the WOLF-Garten multi-change® range of tools were perfect for the task. He said that the nature of the work meant that they would have to use several different tools, so being able to only have to carry one handle made life much easier. Being situated on a steep slope also meant that full length handles would be awkward to use as they would mostly be working with the slope in front of them, so being able to swap the tools easily onto WOLF-Garten's short handles was very handy for close-quarters weeding.
"Of all the attachments, the 15cm RFM15 Push-Pull Weeder was ideally matched to the job, with the small annual weeds being easily cut on the push stroke, while a more powerful action on the pull stroke was perfect for cutting through the tough woody stems of perennial plants," commented Angus. "The WOLF-Garten tools stood up to the task fantastically well; the cutting edges remained sharp despite working on flinty chalk and the mechanism for securing the tools to the handles functioned without either jamming up or releasing the tool unintentionally and all this despite being used with such vigour that those of a more sensitive nature might accuse us of 'tool abuse'!" Angus concluded.
To find out more about the range of WOLF-Garten tools, please visit www.wolfgarten-tools.co.uk
Contact Us
Marketing Services Department,
E.P. Barrus Ltd, 
Glen Way,
Launton Road
Bicester, Oxfordshire
OX26 4UR        
Tel: 01869 363636
Fax: 08714 298109
Email: customerservices@barrus.co.uk        
VAT Number: GB226662558
Company Registration Number: 148476