E. P. Barrus Appoints New Lawn and Garden Marketing Executive
Published on: 08/02/2018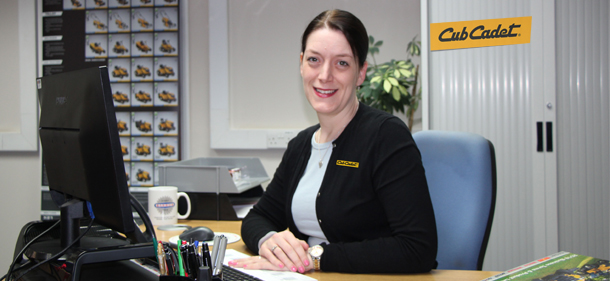 E. P. Barrus Ltd is pleased to announce the appointment of Emily King to the role of Lawn and Garden Marketing Executive.
Emily brings with her a wealth of marketing experience. After graduating with a degree in Advertising and Promotions, Emily completed a Sales Diploma and has since worked with high-profile brands including BMW and Mazda. Her experience includes online and offline marketing and, with knowledge of channel marketing, she is well suited to also support the company with its marketing.
E. P. Barrus distributes some of the biggest names in the industry, such as Cub Cadet and Lawnflite, and Emily's main area of responsibility will include supporting the growth of these.
Cub Cadet is renowned for its high quality, innovative products. For decades it has been building lawn mowers, lawn and garden tractors, zero-turn mowers and utility vehicles, supporting the brand attributes of premium quality, high performance and revolutionary products. Emily will support Cub Cadet dealers in promoting the brand as well as looking after all marketing for Lawnflite. From electric and petrol lawnmowers, to ride on mowers, Lawnflite has a wide choice of high quality lawnmowers to suit any size of garden. Lawnflite also has a range of powered equipment, everything needed for a perfect garden.
Emily said: "I am thrilled to be joining Barrus in the Lawn and Garden Division. It's an exciting time for the company having just celebrated its 100-year anniversary and with the new products being launched this year I'm happy to be on board. Gardening has become a passion for me and I am excited to be working on some of the most loved brands in the industry."
Tim Hart, Director of Sales & Marketing at Barrus added, "With a strong background in channel marketing and her broad knowledge of on and offline activity, I know Emily will provide a great support to our dealer network and help the Lawn and Garden Division with their next phase of growth."
Contact Us
Marketing Services Department,
E.P. Barrus Ltd, 
Glen Way,
Launton Road
Bicester, Oxfordshire
OX26 4UR        
Tel: 01869 363636
Fax: 08714 298109
Email: customerservices@barrus.co.uk        
VAT Number: GB226662558
Company Registration Number: 148476