New Mercury Diesel 6.7L engine family
Published on: 10/10/2017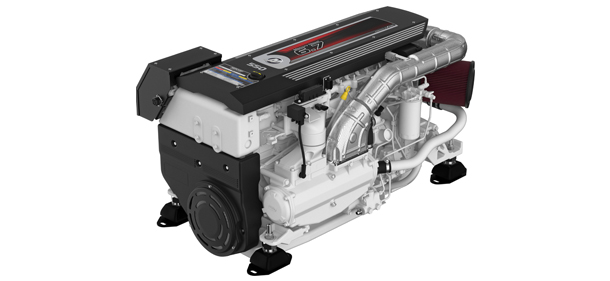 The new Mercury Diesel 6.7L mid-range engine family delivers exceptional top speed performance with outstanding acceleration.
These electronic, common-rail engines are available in three power levels; 480hp, 500hp and 550hp. A new, matched turbocharger design plus state-of-the-art engine control system provides low fuel consumption resulting in affordable operating costs and extended travel range.
The new engine has been produced from a strategic partnership between Mercury Marine and global powertrain giant Fiat Powertrain Technologies (FPT). Customised especially for Mercury Marine, the engine is assembled in FPT's dedicated marine engine plant.
The new Mercury Diesel 6.7L engine is compatible with all of Mercury's controls and SmartCraft® electronics. Mercury Diesel's SmartCraft® compatibility also enables boaters to specify digital throttle and shift (DTS) control systems including optional joystick piloting for inboards and joystick piloting for pods (Mercury Zeus pod-drive).
"Mercury's new mid-range diesel engines provide us with opportunities in the light duty commercial sector with applications for fast catamarans and pursuit craft, fishing vessels and workboats in addition to single and twin installations in pleasure boats," commented Robert Plant, General Manager for the Marine Diesel Division.
Contact Us
Marketing Services Department,
E.P. Barrus Ltd, 
Glen Way,
Launton Road
Bicester, Oxfordshire
OX26 4UR        
Tel: 01869 363636
Fax: 08714 298109
Email: customerservices@barrus.co.uk        
VAT Number: GB226662558
Company Registration Number: 148476