London Boat Show 2017
Published on: 23/01/2017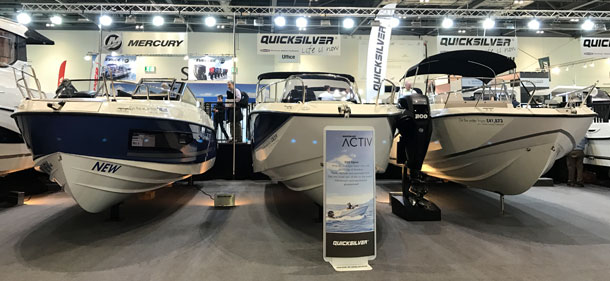 An exciting line-up of race boats supported by Barrus, powered by the latest, most advanced Mercury outboard engines, were showcased at London Boat Show. Barrus is proud to be associated with the SUNUS Ocean Racing Team and the Pepstar Racing Team. Mercury's racing heritage is renowned, and with the power of Mercury behind the teams, it is sure to provide a winning combination.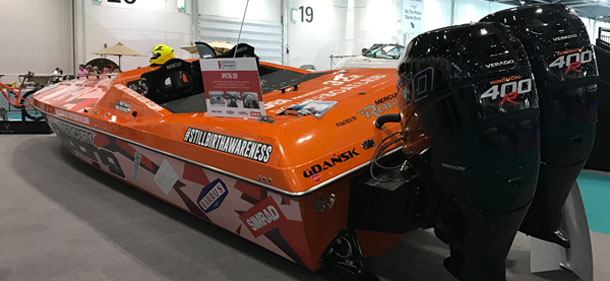 The SUNUS Ocean Racing 32ft Spectre is powered by two supercharged Mercury Racing Verado 400hp engines, making this the most powerful outboard race boat in the UK. SOR works extremely hard to utilise the best technology to operate in a clean and competitive way, without compromising the environment. The Mercury engines offer great fuel economy and the latest technology for clean operation. Pepstar's BaBa catamaran is powered by a Mercury OptiMax 200XS SST (Super Sport Tunnel) outboard, capable of 120mph. 
Ben Fogle's Round British Isles Record Challenger This year's London Boat Show see's Spectre Boat's International display their 32R, raced by SUNUS Ocean Racing, their factory offshore powerboat team. The Spectre 32R is the UK's fastest production leisure craft, capable of 100mph. This race version by SOR has recently broken two national speed records on Coniston Water, being awarded Donald Campbell's Silver Star, fitting that the boat should be on show the week that marks 50 years since Campbell's passing.
This year the boat will be used by TV personality and seasoned adventurer; Ben Fogle alongside powerboat racing veteran; Tom Montgomery-Swan as they attempt to break the world record for the fastest circumnavigation of the British Isles, a 2000 mile non-stop challenge with a team goal of finishing the circumnavigation in under 60 hours. This is also the same boat that Tom drove for Amazon Prime's hit TV show; The Grand Tour. The boat was involved in episode 3 of Jeremy Clarkson's show where with Richard Hammond onboard, the 800HP, 32ft race machine disturbed the peace of Venice, and, with its wake, purposefully threw Clarkson and May into the water. The team's activities are designed to create a platform to raise awareness for Stillbirth. Through marine motorsport the team work to raise funds and awareness to help offer a support network and better facilities to affected families. Both Ben Fogle and Tom Montgomery-Swan have suffered the death of their son's born still and hope to use their epic challenge later this year to draw national spotlight on their awareness campaign.
To donate to their cause please follow the link: www.gofundme.com/sunusracing
The SUNUS Ocean Racing 32R is based upon the Spectre range of powerboats, designed from the original British Phantom design. Now using the very latest in build technique's and engine technology, their range of craft are high-performance grand tourers, capable of 100mph whilst still having a full double bed and two sofas in the forward cabin. The boats come with the 3-year warranty and the development of over 500 hours by the in-house race team.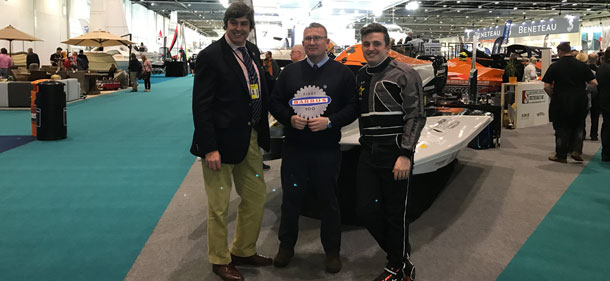 Palfreyman launched 2017 UIM F2 World Championship bid at London Boat Show Matt Palfreyman's Pepstar Racing Team unveiled their UIM F2 powerboat at the London Boat Show on the 6th of January. At 12 noon, Palfreyman lifted the covers off of his 120 mph Mercury powered BaBa catamaran to reveal an exciting new livery with 2017 sponsors and team partners. E. P. Barrus Ltd, the UK distributor for Mercury Marine engines will be supporting Palfreyman's 2017 UIM F2 World Championship bid. Lee Allen, the Barrus Technical Service Manager and Pepstar Racing's Chief Engineer will be race preparing the team's Mercury OptiMax 200XS SST outboard during the season which will include races to be held at Lithuania, Switzerland, Belgium, Norway, Portugal and Turkey. Palfreyman has already enjoyed success working with Pepstar Racing. In 2015, he took the UIM F2 World Championship Silver Medal and followed that up with Silver in last year's UIM F2 European Championship. The 24 year-old, from Aughton in Lancashire said; "It's great to have Barrus behind us this year and I am confident that I can reward their support with a British World Championship win to help mark the company's centenary celebrations'. For more information visit www.pepstar-racing.co.uk.
Both the Marine Leisure and Marine Diesel divisions from Barrus reported that they has a successful show with visits to their stands from quality customers generating sales from the Quicksilver boats line-up. There was particular interest in the new Mercury Pro XS 115hp outboard engine and a strong brand presence not only on our stands but throughout the show, where 100% of UK built sail boats were powered by one of our engines! We are already looking forward to 2018!
Contact Us
Marketing Services Department,
E.P. Barrus Ltd, 
Glen Way,
Launton Road
Bicester, Oxfordshire
OX26 4UR        
Tel: 01869 363636
Fax: 08714 298109
Email: customerservices@barrus.co.uk        
VAT Number: GB226662558
Company Registration Number: 148476