Plantworx 2017
Published on: 19/06/2017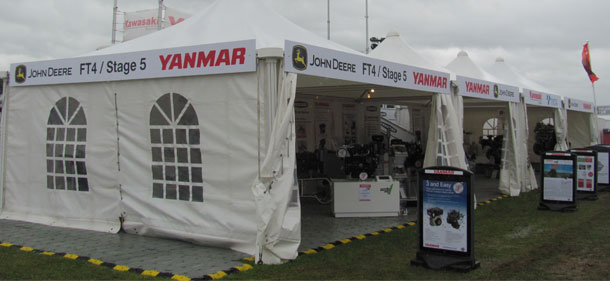 2017 is a proud and momentous year for Barrus as the company celebrates its 100-year anniversary. With extensive experience in the industrial sector, built over 35-years and long-standing relationships with some of the world's leading engine manufacturers including Yanmar and John Deere, Barrus is able to meet the exacting demands of its customers for high quality, performance, durability and reliability.
Barrus focussed on the latest John Deere and Yanmar Final Tier 4/Stage 5 compliant engines covering a power range from 6hp to 600hp.
The L100 and L70 engines from Yanmar's popular L-Series air-cooled range meet the Final Tier 4 emission regulations. This compact diesel engine range designed for high-performance, reliability and durability is ideal for powering construction equipment, power generating sets, pumps and hydraulic power packs and utility applications.
The Yanmar TNV-CR water-cooled series industrial engines are already prepared for the introduction of EU Stage 5 regulations in 2019 which means that there will be no change required to comply with the incoming regulation. A Yanmar 4TNV88C Tier 4 working engine was on the stand at Plantworx. The engine, which has a full diagnostic package, is used by the Apprentice Construction Plant Mechanics at Askham Bryan College in support of their Tier 4 training requirements.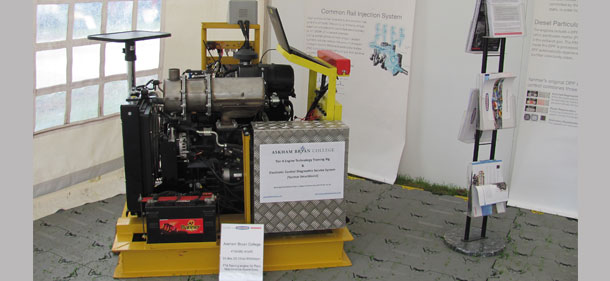 Many of the manufacturers and suppliers exhibiting at Plantworx displayed machinery fitted with Yanmar engines including Altrad Belle, Morris Site Machinery, Brendon Powerwashers, and Stephill Generators. TrommALL, a manufacturer and distributor of mobile trommel screen machinery and deck screens, is now 100% Yanmar, with the Yanmar Tier 4, TNV98C powering their latest machine. The TrommALL 5100 Tr is a trommel screen and stockpiling unit that is designed to handle the toughest screening solutions.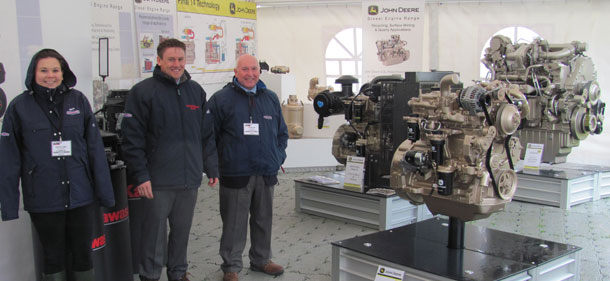 John Deere engines are built to deliver responsive performance, reliable uptime and low cost of operation. The John Deere Integrated Emissions Control system configurations are tailored to meet Final Tier 4/ Stage 5 emissions regulations and customer requirements within each power range. The John Deere constant speed stage 3A engines were on the stand plus the Final Tier 4/ Stage 5 engines. Combilift, specialist forklift and straddle manufacturers has just migrated from stage 3A to Tier 4, John Deere 4045HFC04 engines for their C14,000 counterbalance forklift, aisle truck and side loader.
A selection of Kawasaki's highly respected single and twin cylinder engines were also on display. Like Barrus, Kawasaki are also celebrating a milestone anniversary as 2017 represents the 60th anniversary of the start of production of the first general purpose petrol engines. Kawasaki's technically advanced, durable, high-performance engines are compliant with all current off-highway emission regulations and are ideal for the industrial, groundscare, turf care, and related markets.
There was a number of OEM machines displayed on the stand at Plantworx demonstrating the many engine applications. Toyota LPG engines are used by Combilift to power their Combi-CB range ofcompact, multi-directional forklifts. There was a Tufftruk, Truxta Mini Dumper fitted with a Yanmar L48 engine, a Thwaites 1 ton dumper with a Yanmar 3TNV76 and a Dawson Hydraulic Powerpack with a John Deere 4.5 litre FT4 engine.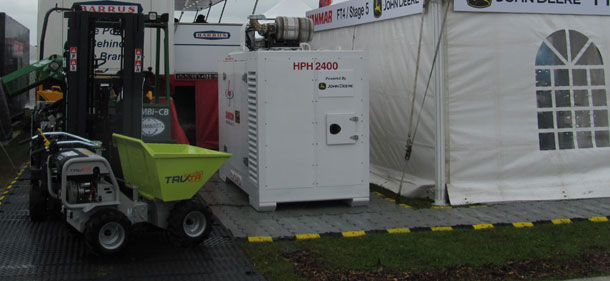 The Industrial Division at Barrus has a flexible approach to customer requirements providing specialist applications engineering support for both one-off projects and volume production. Contact us to discuss your next project or application.
Contact Us
Marketing Services Department,
E.P. Barrus Ltd, 
Glen Way,
Launton Road
Bicester, Oxfordshire
OX26 4UR        
Tel: 01869 363636
Fax: 08714 298109
Email: customerservices@barrus.co.uk        
VAT Number: GB226662558
Company Registration Number: 148476