Seawork 2017
Published on: 27/06/2017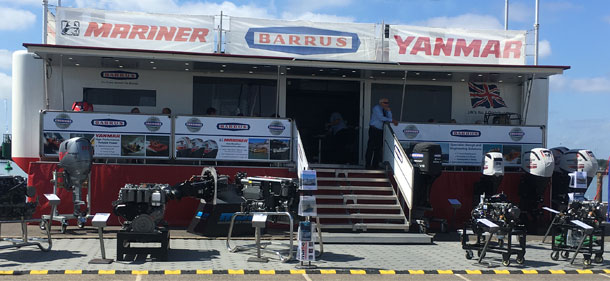 Recognised worldwide as a leading custom-engine builder, Barrus designs and develops marine engines and accessories to meet the specific operational requirements of commercial operators, professional rescue services, and the military and other government organisations.
2017 is a proud and momentous year for Barrus as the company celebrates its 100-year anniversary. The company has supported Seawork International since it started 20-years ago, and this year showcased an impressive line-up of the latest marine engines, boats and applications.
Barrus announced that they have been appointed the exclusive UK and Eire distributors for Mac Boats® and were on show for the first time at Seawork 2017. Mac Boats are the ideal choice for the commercial or professional user where there is a requirement for robust, durable boats that can operate in the harshest of conditions.
Mariner 2-stroke commercial outboards, Mariner and Mercury 4-stroke outboards including the new Mariner Marathon commercial 4-stroke engines were on show. This dedicated range of commercial 4-stroke engines offer a high displacement, low horsepower solution for commercial users, and provide increased durability and longer life.
Diesel outboards included the Mercury 180hp OptiMax and the Yanmar D-Torque 111. Inboard marine engines from Yanmar, John Deere and the new Shire range of small workboat engines featured.
Emergency rescue pumps and a range of custom accessories completed the line-up. Barrus supplied engines were fitted to a number of boats displayed on the pontoons opposite the Barrus stand at Seawork, demonstrating a diverse range of commercial applications.
Featured boats included a Delta 900SX 9m Rescue RIB fitted with twin Yanmar 8LV engines and a BAE Systems Artic 22 RIB powered by a Mercury Diesel OptiMax 180hp outboard engine.
Mark Coleman, General Manager for the Special Products Division comments on Barrus' attendance at Seawork 2017, "Seawork is the one event in the year that we get the time to spend with our commercial customers in the fishing industry, professional rescue services, government organisations and the UK military. Seawork has helped us to get a foothold in the fishing sector and we have developed and expanded our portfolio of engines supported by a dedicated Sales Manager."
Mark continued, "The location of the event makes it easy for the majority of marine users to attend and the expansion of the show to include health and safety related products and chandlery offers visitors a meaningful experience."
Contact Us
Marketing Services Department,
E.P. Barrus Ltd, 
Glen Way,
Launton Road
Bicester, Oxfordshire
OX26 4UR        
Tel: 01869 363636
Fax: 08714 298109
Email: customerservices@barrus.co.uk        
VAT Number: GB226662558
Company Registration Number: 148476