E. P. Barrus has added WD-40 to its wide-ranging gardening portfolio.
Published on: 05/04/2018
The familiar signature blue and yellow cans are instantly recognisable, but the company also produce a line of professional grade speciality products formulated to perform specific, more demanding tasks. Barrus has selected the WD-40 Specialist® Lawn and Garden products to distribute through their authorised garden centres.
WD-40 Specialist® Lawn and Garden is designed to maintain and protect gardening tools and equipment all year round. This prolongs the life of gardening appliances ensuring you get the best performance out of your tools and equipment.
There are four products in the range including a Heavy Duty Grease, General Use Lubricant, Water Protective Silicone and a Foaming Cleaner.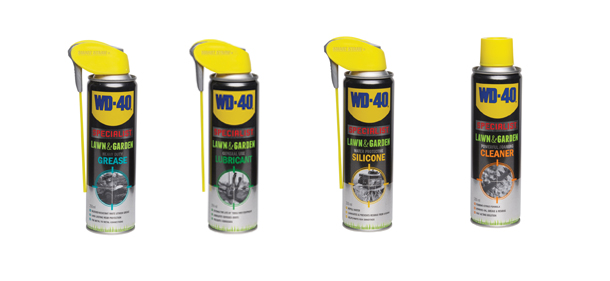 The Heavy Duty Grease is a thicker grease providing long lasting lubrication, Ideal for metal on metal connections. The General Use Lubricant contains PTFE to provide excellent lubrication and protection on moving parts. The Water Protective Silicone is a protective silicone created to lubricate and protect against the elements. The Foaming Cleaner is a powerful foaming formula that cleans sap, soil and dirt deposits.
 The WD-40® Multi-Use Product with a Smart Straw fixed delivery system is also available. This Original formula still helps solve maintenance problems for DIY, trade and industrial users alike.
"WD-40 is a perfect complement to our existing market-leading gardening brands and provides our distribution network with an additional revenue stream," commented Tim Hart, Director of Sales and Marketing at Barrus. "WD-40 is a brand that people know and trust and one that guarantees quality and reliability."
This specialist Lawn and Garden range is available in a hanging display rack with supporting point of sale to catch the eye in any retail environment.
The addition of the WD-40 range adds to the extensive range of leading gardening and household brands including WOLF-Garten, Wilkinson Sword, Town & Country, Toolflex and Energizer, all available from E P Barrus.
Contact Us
Marketing Services Department,
E.P. Barrus Ltd, 
Glen Way,
Launton Road
Bicester, Oxfordshire
OX26 4UR        
Tel: 01869 363636
Fax: 08714 298109
Email: customerservices@barrus.co.uk        
VAT Number: GB226662558
Company Registration Number: 148476