Student Testimonials
David Etherington-Smith was the first student to join Barrus on a placement year from university in 2003 and he re-joined the company following completion of his studies. David is now Sales Manager for the Special Products Division supporting their Military and commercial clients with custom built engines. 
When reflecting on his experience of the student placement, how it impacted his career and helped him towards his current position, he commented:
"I thoroughly enjoyed my placement with Barrus as it varied widely and gave me the chance to develop all aspects of the skills required to work in my highly technical sales role. We have continued to encourage our students to not only develop their engineering skills whilst with us, but also understand the commercial benefits of the unique systems we develop and supply - then test them out, too!"
Mike Burge completed his placement at Barrus in 2012 as an R&D Student and, after graduating from university in 2014, joined the company again as Sales Engineer for the Special Products Division. Mike now supports Search and Rescue teams and the emergency services with custom engine packages and commented:
"My placement year was extremely interesting having never worked in the marine industry. I enjoyed the fast-paced environment working on fascinating projects for a diverse range of customers all with unique requirements. The highlights of the year were getting to see my designs become production components, testing products and getting to work closely with customers to greater understand their needs. This helped me develop vast engineering knowledge and skills that help me today in my Sales Engineer role."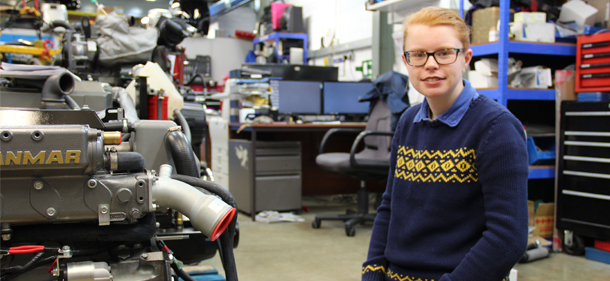 Phoebe Carter-Powell was an R&D Technician on her placement year in 2017 and returned to Barrus upon completing her studies. Phoebe is now Technical Support Engineer for the Industrial Division.
"Throughout my placement at Barrus, I recognised the reason for learning various topics at university and was able to apply the knowledge I had gained. We had learnt about things like CAD and workshop techniques, so I had the theory behind me but had never actually done them before. My placement was therefore valuable in building upon my existing knowledge with practical work to develop my understanding and skillset."
"Since working in Industrial, I have developed these skills further and used them to design new engine workshop builds from the initial CAD design through to the fine tuning of the final build."
Adam Gillett was an R&D Student at Barrus in 2015 and has since returned to the company as R&D Technician working with the Special Products Division on new technologies and products. Adam commented:
"My student placement with Barrus was a really exciting opportunity. It allowed me to develop skills I already had to high levels such as modelling whole engines using CAD. It also allowed me to try new things which I had no experience of before starting my placement such as machining parts on the Mills and Lathes and operating the Dynos."
"The best part of the student experience is seeing every part of the life of a component - from designing the part, occasionally making the part, fitting it to the engine and, finally, fitting the engine into a boat and testing it. The highlight of the year had to be fitting two new engines to Sidmouth Lifeboat and, once installed, taking part in the sea trial!"
"My placement allowed me to finish off my degree with a greater understanding of the engineering world and I was lucky enough to be offered a job back at Barrus after I graduated to make use of the skills I'd learnt during my placement."
Jamie McNicol completed his R&D Student placement in 2013 and has now returned to Barrus full-time as Production Engineer for the Special Products Division.
In his current role, Jamie oversees the production of new inboard engines and any modifications required to meet customer specifications, which include boat builders for the MoD, fast patrol and rescue craft.
When reflecting upon his placement year and how it prepared him for his current role, Jamie commented:
"My placement year helped me to prepare for my current role by giving an insight into a high-performance engineering team and developing the skills required to work within one. Having worked on projects in my placement year from the initial design stage through to production, I now have the problem-solving skills I need to deal with any situation that may arise in my current position."
Contact Us
Marketing Services Department,
E.P. Barrus Ltd, 
Glen Way,
Launton Road
Bicester, Oxfordshire
OX26 4UR        
Tel: 01869 363636
Fax: 08714 298109
Email: customerservices@barrus.co.uk        
VAT Number: GB226662558
Company Registration Number: 148476