Engine Choice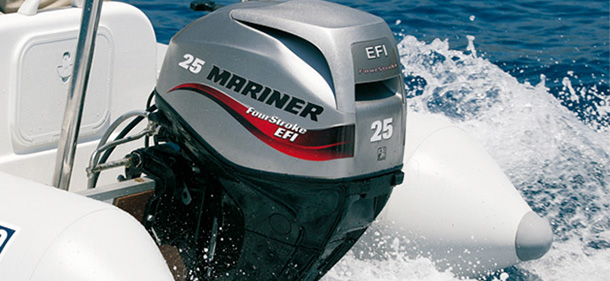 Choosing your engine 
There are a number of points to take into consideration when selecting the correct outboard engine for your boat. The following information is intended as a basic guide only and we would advise that you contact your local Mariner Authorised Dealer who will be able to assist in choosing the correct engine for your boating situation. Please visit the Dealer Locator on the website to find details of your nearest Mariner dealer. 
Where will your outboard be used? 
The first thing to consider when choosing a suitable outboard engine is where is the outboard mainly being used. Running offshore and in coastal waters will have different requirements than on rivers, canals and lakes. For example lake trolling would call for smooth and quiet operation whilst going offshore would call for speed, acceleration and top-end performance.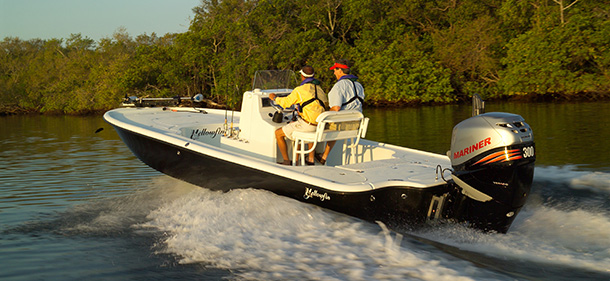 Mariner Four-Strokes
Inherent fourstroke characteristics include quiet, smooth operation and exceptional idling
Superior corrosion protection provides longer life
Precision engineered shift system for an improved driving experience
Consistent, easy starting
Outstanding fuel efficient economy
Clean running engines for ultra low emissions
New range of command thrust engines, an industry first, takes the concept of using a larger gearcase on a smaller base powerhead.
5 year warranty for leisure use only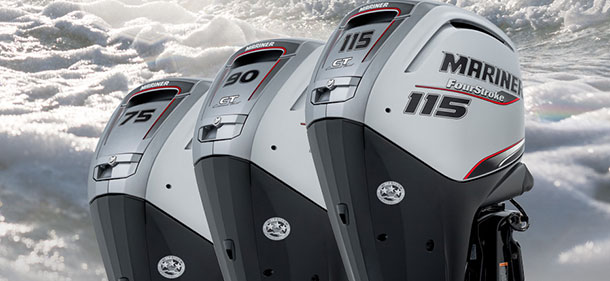 Calculating shaft length of engine 
Petrol outboards are mounted onto the transom (stern) of the boat. To determine the correct mounting height you need to measure from the bottom of the boat to the top of the transom to find the correct shaft length. 
Locating Centre line of Boat Transom 
Locate (and mark with pencil) vertical centre line (a) of boat transom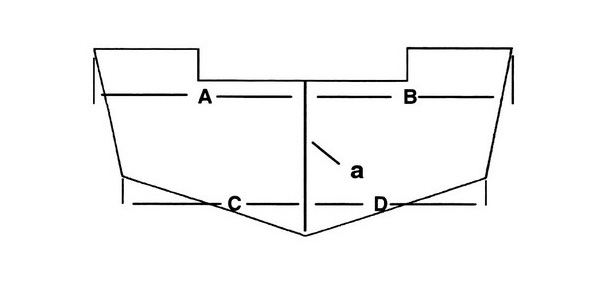 a – Centre line of Transom 
Outboard Mounting Height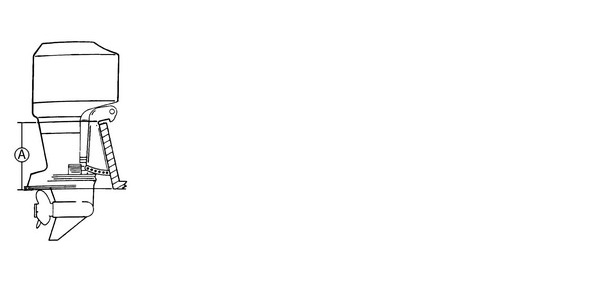 a - Height of outboard transom brackets from bottom of boat transom.
Calculating Weight and Horsepower 
Information relating to weight and horsepower can be found on the hull number plate which is fitted on the boat. Here you will find the maximum kW/hp/weight recommended for an outboard engine. The manufacturers recommended horsepower rating should not be exceeded. Older boats may only have information regarding maximum horsepower rating and in this case it would be advisable to contact the boat builder for maximum weight.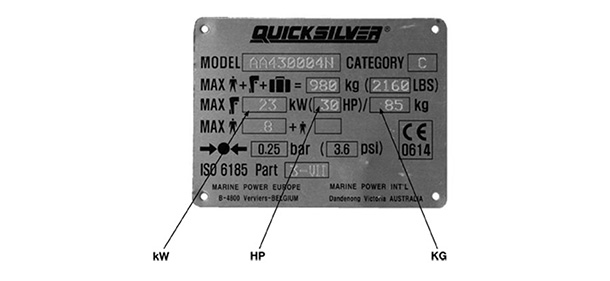 Propeller Selection 
In determining boat performance, propellers are second in importance only to the power available from the engine. The boat's propeller affects every phase of performance, handling, riding, comfort, speed, acceleration, engine life, fuel economy and safety. The propeller is the primary connection between the engine and the water. Which propeller or propellers you select to make that connection is critical to achieving optimum boat performance. Every engine will produce its maximum horsepower at the maximum wide open throttle rpm which is stated for every engine. (This can be found in the Owners Handbook). For every one pitch you change the propeller the wide open throttle will change approximately 250rpm. If the engine is over propped the engine will not reach maximum rpm. This will result in high fuel consumption, loss of power and potential engine damage. If the engine is under propped this will allow the engine to over rev resulting in high fuel consumption and potential engine damage. 
See our Prop Selector, this guide will help you calculate the right prop for your boat type and how to use it. Learn More >
Find a mariner outboard dealer
Find your nearest Mariner Outboard Dealer.
Service & Support
Barrus is committed to the highest standards of customer service.
Contact Us
Marketing Services Department,
E.P. Barrus Ltd, 
Glen Way,
Launton Road
Bicester, Oxfordshire
OX26 4UR        
Tel: 01869 363636
Fax: 08714 298109
Email: customerservices@barrus.co.uk        
VAT Number: GB226662558
Company Registration Number: 148476