---
Mariner Fourstroke 2.5hp - 3.5hp
Description
Dependable Portables
Never before has portable power seemed so perfect, our 2.5hp and 3.5hp FourStrokes may be small, but they're filled with big ideas.
Both engines feature neutral and forward shift and a tiller steering that rotates 360 degrees and a twist grip throttle for maximum manoeuvrability and one hand control. Plus a very clearly visible sight gauge makes it easy to monitor and maintain a proper oil level.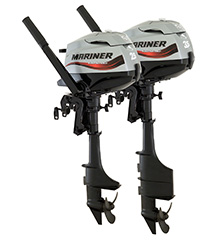 Features & Benefits

Performance

Large displacement engine provides excellent low to mid-range power.
Quiet, smooth-running and smoke free operation.

Optional 5-Year Warranty

Five-year limited non-declining, factory-backed. Conditions and exclusions apply.* Not applicable for commercial and racing applications.
Two-year limited commercial warranty.†

        * Terms & Conditions apply.

        † 2 Year Government.Commercial Warranty.
        Terms and Conditions apply. May require extra components.
        i.e.under cowl hour meter.

Running Quality

Through prop exhaust buries the engine noise underwater.
4 trim positions plus shallow water drive allow easy access to remote areas.
Vibration isolated twist grip throttle provides a smooth interaction with the engine

Reliability

 CDI ignition offers maintenance-free dependability and easy starting. 
Super corrosion protection provides longer life.

Technology

Visual Low pressure warning system
Decompression system for quick, effortless one handed starting.
Find a mariner outboard dealer
Find your nearest Mariner Outboard Dealer.
Service & Support
Barrus is committed to the highest standards of customer service.
Contact Us
Marketing Services Department,
E.P. Barrus Ltd, 
Glen Way,
Launton Road
Bicester, Oxfordshire
OX26 4UR        
Tel: 01869 363636

Email: customerservices@barrus.co.uk        
VAT Number: GB226662558
Company Registration Number: 148476