---
Mariner Fourstroke 8hp - 9.9hp
Description
Lean Mean Portable Machines
Even with all the user-friendly features included, our 8 and 9.9hp FourStrokes are one of the lightest in their class. A convenient multifunction tiller handle provides easy one-hand shifting operation while the manual choke and primer features makes it easy to get things started. Plus these outboards come equipped with our exclusive automatic reverse hooks that don't require you to manually change the clumsy lever to hold the engine in place while running in reverse.
Download centre: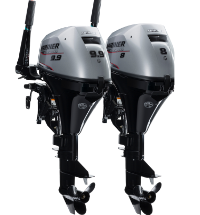 Features & Benefits

Performance

Clean and efficient, with plenty of torque to keep the fun.
Multi-function tiller handle controls shift, stop, throttle, throttle friction and steering for one hand operation.
Inherent FourStroke characteristics include quiet, smooth operation and exceptional idling.

Optional 5-Year Warranty

Five-year limited non-declining, factory-backed. Conditions and exclusions apply.* Not applicable for commercial and racing applications.
Two-year limited commercial warranty.†

        * Terms & Conditions apply.

        † 2 Year Government.Commercial Warranty.
        Terms and Conditions apply. May require extra components.
        i.e.under cowl hour meter.

Running Quality

Overhead cam design for quiet and efficient operation.
5 trim positions plus shallow water drive allow easy access to remote areas and better control in shallow waters.
Manual recoil starter, even on electric start models.

Reliability

Enhanced fuel primer and manual choke deliver instant starts every time.
Visual low pressure warning system.

Technology

Electric start models feature a 6 amp / 76 watt alternator to keep batteries properly charged.
Find a mariner outboard dealer
Find your nearest Mariner Outboard Dealer.
Service & Support
Barrus is committed to the highest standards of customer service.
Contact Us
Marketing Services Department,
E.P. Barrus Ltd, 
Glen Way,
Launton Road
Bicester, Oxfordshire
OX26 4UR        
Tel: 01869 363636

Email: customerservices@barrus.co.uk        
VAT Number: GB226662558
Company Registration Number: 148476